🎵Tis the season to be jolly, Fa la la la la, la la la la🎶
We all know that jingle, don't we?!
It's prolly still a ringtone for many Ugandans, even as we have over 300 days to the next Christmas season.🤗.
The festivities are not only an international holiday to get MERRY but also, a time to get together with family.
In my culture for example, people in the cities usually plan to spend Chritsmas holidays with the extended families in the villages far away from the pollution and bustling that comes with city life.
Being in Europe during this year's Christmas, going to the UK to spend Christmas and the new year with my extended family in London was the most plausible thing to do
There was a lot of perks that came with this option: Celebrating a Ugandan friend's birthday – Noel, one of my closest friends who got herself a CHEVENING'S SCHOLARSHIP (clearly I have the right friends); pay a visit to some of the UK collaborators part of the 3-year long UK-Uganda-Jordan Prosthetics project I have worked on before I started my masters study; and of course, njolese ku malo🤗 (there is no literal translation for this statement. Close to it is, showcase my village excitement as a result of being in Bungeereza(England))
But no, the Universe had different plans for me which by the title of this blog, you have an idea of what those plans were; MALLORCA
As ALWAYS, this too will be a LONG READ, but will be divided in parts for just in case you want to acquaint yourself with a particular topic.
1. WHY MALLORCA
While at the interview level of my Visitor's visa to the UK (which was unreasonably pricey to attend btw), I was informed that the decision would take more than a month to get to me and that would to be past Christmas time.
When I looked back in time about what I had to sacrifice to reach that level of progression, I was dispirited
Not so much, to not look for a plan B – of course
"What will I do during the ample time I have as DOWNTIME"? I wondered
At the same time I questioned myself, "What if I travelled alone though, what's the worst that could happen?!"
My adventurous soul seemed alive here and very much into the idea.
With that decision, my choices were limited to domestic travel because of the travel ban Spain had put, on most countries because of OMICRON
And that's how the idea of going to one of Spain's territories was born
I chose Mallorca in particular because of its rich landscape particularly; the Serra de Tramuntana mountains that covers more than 30% of the island and the CYCLE TOURISM routes it offers known amongst professional and enthusiastic cyclists
But also, after a four-months change of setting in terms of: time, weather, economy, routine, culture, I needed to unwind as I had been feeling a tad out of sync and couldn't zero down to the appropriate way of handling change.
With Mallorca as my destination, to give me an intimate interphase with nature and my "fears", I imagined it was going to be an ideal place to regain mental clarity.
This in my mind required that I travel by my lonesome: a decision that I comprehended as exciting but tough, and a reason to be nervous.
When I told a few people about this idea, both the location and decision didn't seem appropriate and mostly because: Mallorca has been popularised as a summer destination; and additionally, doing it alone made me seem friendless
A few examples to paint a good picture about the latter: when my mum learnt that I travelled alone, she felt like the beloved fruit of her womb – me, was some sort of forlorn that didn't have any friends or family; Another scenario was when I was in Mallorca, at one of the hostels during my stay, a kid of about 7 years asked me if I travelled alone and subsequently, about the whereabouts of my dad (this happened as he held tight onto his dad – like I had threated to steal him away 😂 or MAYBE, this was him showing off what treasures he had that I SUPPOSEDLY didn't have😂)
Back to the story, the plan was to spend first 5 days in Palma, the capital; and then head into the mountains for the rest of the stay.
Regarding the latter plan, I had a few friends that made jokes about me coming face to face with belligerent sabre-toothed predators, carnivores and reptiles, or rather meet kind-natured wildlife that would transform me into TARZAN (or should I say TARZANRESS to emphasize the female bit😂) that has experienced a bit of civilisation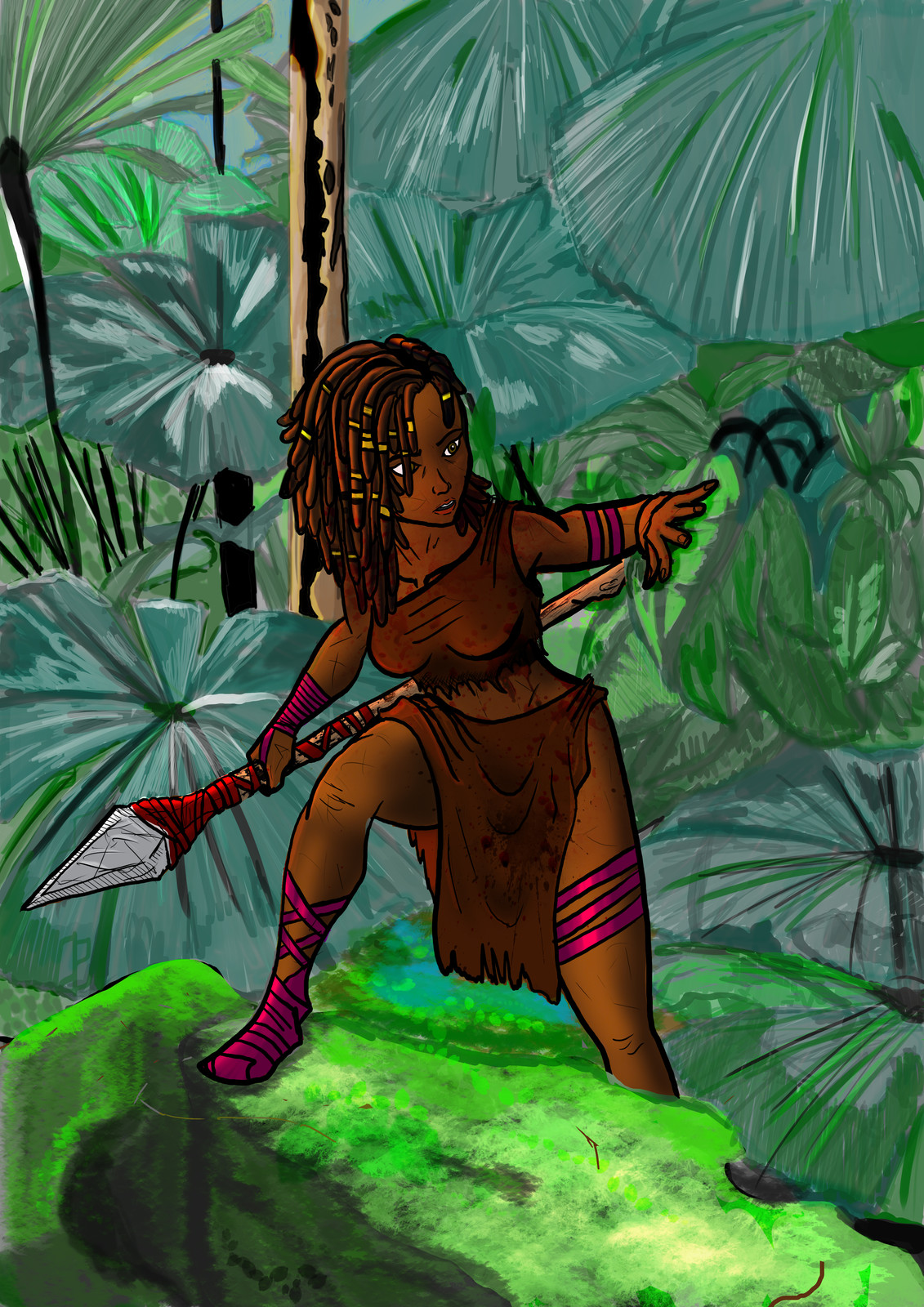 Jokes aside…….
Deep inside, I kind of fretted but at the same time, I ached to experience the adventure and better still, I wanted to know me better: to learn the how to handle stress that comes with change.
Considering I was going to put myself into a world that I had little experience about, I did some basic prior preparations that included buying hiking stuff and receiving tips from JANTA – a hiking bud about how to handle the situation in the mountains and creating a travel itinerary for where I would stay, hike and finally RIDE A BIKE!
2. A LITTLE "EXISTING LITERATURE" ABOUT MALLORCA
Mallorca is the biggest of the Balearic Islands, one of the Spanish archipelagos known for its beaches and warm weather hence being a tourist destination especially during summer for people from the North of Europe (Germany and the UK)
I follow a fellow tall girl (of course) on Instagram who is a hiker, and I think has been on every mountain (based on what I have seen from snooping) and further, provides tips about how to navigate a destination based on her experience.
If you are the deliberate kind and would like to have an in-depth guide about what to do and when in Mallorca, then I would strongly recommend that you visit her post about Mallorca HERE
Regarding the hiking bit, the serra de tramuntana ranges have already-marked tracks that one can follow from wherever they choose to hike from.
The most famous of this is the GR 221 route, divided in 8 stages and begins from Andratx in the southern part of the mountains to Pollença in the north: A detail of these can be found on the link: HERE
I decided to focus on the longest stage: Stage 5, as it had the most routes leading to different small towns of the mountains and the highest peaks were accumulated in that particular stage.
3. THE FIRST DAYS
When I got at the airport in Palma – Mallorca's capital, the question about how to reach the place I was going to crash was not any rocket science
A typical tourist would automatically get themselves a cab to their hotel or if they will stay longer, rent a car as rental services are right next to the exits of the terminals in the airport.
I was not going to rent a car neither was I going to board the bus to my Airbnb, nor get a cab: I WANTED to start my journey there and then – to walk.
According to google maps the journey was 2 hours long if I chose to get there on foot.
Previous walks and hikes I had done in the past made this seem possible
And yes, that is what I did
But as I did so, enroute to my destination, my phone battery died on me and the fortunate bit was that I had some battery on my laptop to charge it.
By far, I was happy that I chose to walk as I happened to manage to experience Mallorca's raw streets, some of which reminded me of home – Ugandan HOMESTEADS
Palma, the capital of the island, is only 10% bigger than Kampala district, the capital of Uganda
Considering that I would be there for five days tops, moving around on foot was therefore practical to do sight-seeing and a great choice to build my resilience for the mountains.
While the internet refers to Mallorca as FULL OF LIFE during the warmer seasons, there was no day in Palma when people didn't flood the streets – at least for all the days I was there
The weather itself was wayyyy warmer than Barcelona
There were quite a number of things to do and see such as: attending mass on the night Christ was born (Christmas Eve) in the biggest CATHEDRAL of Mallorca – this was basically free entry for me and a moment to show case my village excitement🤗, plus; Castell de Bellver and the beautiful beaches in Palma
With the company of two other tourists from Germany I met in Palma, we had Christmas dinner together and additionally visited another town – Alcúdia – in the North which with a peaceful beautiful beach, was not crowded as probably because well, no one visits Mallorca during winter
4. HIGHLIGHTS
A: UGANDA IN PALMA
While I moved around in Palma, at one of the supermarkets I entered, my eyes fell on COFFEE from UGANDAAAAAAA.
I was super excited, and obviously I bought myself a pack that I consumed in times I craved making my own coffee and didn't want to spend money in a cafeteria.
B: DINNER FOR TWO
Sóller, one of the very beautiful towns I visited in the mountains – and in fact stayed at a hostel located there, had mostly BARS and only one restaurant that got jam-parked after around 7PM
One night when I decided to live through the waiting that ensued from the few camareros(waiters) that serve a burgeoning lot of customers – to experience the Mallorquin cuisine, I got ONE PLATE MORE than what I asked for
Imagine😂
And that was all because of the obvious confusion of the camareros and a supposedly impatient client that couldn't wait another hour to have their dinner served.
The camarero who served my meal, on realising the mistake, (I was already halfway the meal I hadn't asked for, as it was brought first AND I was already starving) said to me, "If anyone else brings you the bill, tell them it's on me"😁
The total three meals were: Tumbet; a mixture of eggplant, red pepper, potatoes and tomato sauce; Berenjenas a la Mallorquina, eggplant stuffed with minced meat and tomato paste served with deep fried potatoes and Patatas Bravas (brave potatoes is the literal translation of this one😅), it's basically spicy fries.
C: CASTELL D'ALARÓ
I spent 6 nights at one of the few castles in MALLORCA
My inspiration for this was: one, the CASTLE itself😊, two; it's at a height above 1000 metres and there was no short cut to the hostel besides climbing it, three; according to the internet, it's strategic view gives a full view of the peaks of the Serra De Tramuntana mountains
While there, I got to eat delish home-made Mallorquin meals for dinner, immersed myself in unmatched sunset views with gentle breezes, experienced the literal feeling of being above clouds and got to do a lot of personal stuff (for self-evaluation of course) in the expanse of the slopes next to the castle.
Additionally, on New year's eve, I got to experience a lot of the Spanish tradition including: eating 12 REALLY SWEET GRAPES, one at each single ringing of a bell before midnight of New Year's Day – each grape being a sign for fortune for the coming year (I ate more than 12 grapes though, as they were REALLY yummy🤗 and a little MORE FORTUNE don't HURT😉); The grapes eating was followed with CAVA (champagne of Spain) which, as obviously, I indulged in more than everyone else and further more; I drank lots of other alcoholic drinks particularly from Menorca (one of the Balearic Islands) and Galicia (a region in the North of Spain) plus DANCINGGG later in the night.
5. Challenges
A. TIME
The one thing I think was constantly challenging about this trip was the day length
Winter, as obvious, comes with shorter days and longer nights, which always limited my time out with nature.
Whatever adventures and routes I had in view, time was always the first aspect to factor in especially during my last days during my stay at castell d'Alaró that was about one hour and 45 minutes from the town of Alaró.
B. LANGUAGE
Language was another challenge.
Besides Spanish, the other language used in Mallorca is Mallorquin, a dialect of Catalan, which one can easily point out, because of the similarities and differences in common phrases like: thank you (Gràcies in Mallorquin, Merci or gracias in Catalan); Good Morning (Bon dia in Mallorquin and Catalan); Good Night (Bona nit in Mallorquin and Catalan)
While I was able to make some communication with my basic Spanish skills with people that couldn't speak ENGLISH, establishing deeper conversations was an uphill endeavour especially when listening to the other person and in most cases, it all sounded Greek to me.
This always resulted into a "Oh noooo, lo siento, no comprendo: Oh no, I am sorry, I don't understand" an escape-phrase I usually say mostly to everyone that happens to speak at a pace I can't pick a word
6. Cycling and Disappointments
Saving the best for last: CYCLING
When I curated my travel itinerary, I saved it for last as I imagined my leg muscles will be properly trained from hiking to weather the GRUELLING hilly terrain in the mountains.
I had intended to ride from Alaró to Deià through Valldemossa, as these are two of the towns the internet recommends as must-sees for a tourist, so what better way to experience their beauty while doing something I enjoy.
Natxo, the manager of Castell D'Alaró recommended Cycling Planet in Alaró as one of the places I could rent a bike.
Once I reached the place, the décor in and out speaks for itself: it's a CYCLING PLANET
Besides being a cycling shop, it's a coffee shop (rated 4.8 stars on google maps) that seemed to attract cyclists from all over the world
Keenly hiding my village excitement, I entered the cafeteria mostly dominated by archetypes of cycling.
Looking at their menu, I wanted to eat LITERALLY EVERYTHING as it had different nutritional combinations, and all named something about cycling
I instead ordered the tour de France meal, and planned I would order something different on my next visits to Alaró
Of course, I booked a bike too which according to the attendant I spoke to, I could pick it on the 2nd of January as they would be open on that day, which he re-echoed as he told me the details of my order
When the D-day came, with the amount of time it takes to reach Alaró , I EXUBERANTLY woke up before dawn to reach the cycling shop
……………only to FIND IT CLOSED!
"Okayyyyyy, what a wow!!! I am happy, yayyyyyyyyy!!!" sarcastic me thought.
I sat out of the closed cafeteria wondering what I would do next considering my legs were pumped up for a RAD RIDE
The optimistic but ENTIRELY-devitalised me decided to channel the ENERGY to hike a route to REFUGI DE TOSSALS VERDS that was meant for the next day, and instead postpone that day's ride for the next day.
This particular hike was a tough one
On top of being a long one, my monthly visitor UNINVITEDLY happened that day😥
As always (for me), she (arguably a "she") comes along with excruciating BACK ACHES on top of (of course), a sombre mood (because of hormonal changes) that is opposite of what anyone needs to walk a 29.30 km distance.
Somehow, I managed to numb the pain and I made it back to the castle; this time, later than usually and after dark because my pace was slower than the usual – from the reasons mentioned above
When the next day came, I awoke feeling as SLOTHFUL as a SLOTH itself, as fatigue sprang from my LOWER LIMB joints and muscles.
"May be coffee and a booster meal from CYCLING PLANET will wake me up and pump me up for my LONG AWAITED ride?" I convinced my self as I woke up to walk the slope to Alaro
When I reached, I found another group of attendants who when I explained my order seemed aware of everything, as it was all stored in their records.
The problem however came when I was asked to present my COVID certificate, (referred to as a COVID passport in Spain) whose copy I had in soft copy; and its QR CODE couldn't be read by the cafeteria's QR CODE readers
On the day I booked my bike, the attendant I spoke to admitted to me that my certificate was not the only one that could not be scanned, as this happened with someone else from Belgium – for reasons not known to anyone
When I said this to that day's attendant (and countless times) and further proved that I was ACTUALLY VACCINATED, she didn't seem to want to know.
And when I asked if I could have my breakfast or have my bike, "I am sorry you can't have it" was her response
I was in bits.
Devastated cannot describe my mental state at that time.
She made me feel like an interloper, it HURT so BADLY
I imagined all sorts of things, including "What if A BELGIAN came after me, would she send him/her away……or may be my colour or hair is making her think I was a fraud"
I wanted to cry: and I did; I shed a tear as I set foot out of the door
"…..or may be I could go back and give her a piece of my mind…."
"…..don't let this go Brenda, it hurts…..you have wanted to do this as the culmination of the experience in Mallorca…."
For a moment, I stopped, closed my eyes and breathed……one breath…in and out…..as deep as the pelvic floor
A continuous tingling sensation came alive to me from my lower back, characterised BY flashes of pain
It was my back, that was still aching from yesterday's gruelling mileage and my "monthly visitor's" influence – of course
Turns out my body wanted to speak, and I was not listening because all I thought about was an exciting bike trip through the famous cycloturismo terrain of Mallorca.
I was tired, my hormones were acting up and my body just wanted to rest
When I opened my eyes, it was a beautiful day; the brilliance of the sun filled the sky and all-over the peaceful town
I still felt the pain and rejection: the agony from not cycling through the mountains
But I chose me instead, and decided to focus on the joy that tingled in my mind because she said no.
Once I chose to pay attention to my body, I realised I COULD prolly not handle the terrain considering how exhausted I was and infact, would lead my body into perdition if I attempted to
Here I was, on the last day of my trip, thinking my mental sinews had everything in control and had more energy (mentally) to go further but in actuality, I couldn't because my motors and drives needed a long-ass-felt reboot
What I decided to do, was instead indulge in a typical mallorquin square meal for breakfast, at one of the FEW opened restaurants in the town
7. THE MOUNTAINS AND LESSONS
Spending time alone, engaged with nature while moving my body through different levels of hiking-difficulty has been one of the most beautiful times I have had alone in a long while.
For starters, my primary goal – as mentioned above, was to use my ingrained capabilities such as curiosity to practice resilience and teach my mind to be persistent and brave while experiencing CHANGE.
What do I crave, what do I get attracted to first if I had a choice to choose between a set of new worldly pleasures and how much can I go once I indulge in a distraction – basically understand my inextricable personality and instincts and the best way to adjust to change.
Travelling en masse doesn't give such liberty (as you probably know), since you tend to go by the flow: to enjoy the company of everyone else under the impression that you are in the care of people with whom you are on the same wavelength
Every single step I decided to take in the mountains mattered, considering I had goals to reach; to climb to a peak and to climb down back to where I was supposed to stay – this was the CONSTANT
Along the way, mindfulness kept me aware of the CHANGES in my environment: the heavy/light sound of my footfalls depending on the terrain and speed I walked; the glints of sunshine through the forests that I passed through; the rough and tumble chirping of the birds as the gentle breeze passed my face; the sounds from the fellow hikers I met along the way; the sweet pain from working my muscles and of course, the heavy breathing from the heavy climbing I did.
This was not easy at the start, but with time – as I learnt along the way to focus on each step and not the end-goal, EVERYTHING BECAME EASIER
There have been insurmountable benefits I have achieved during the time I spent in the mountains, some of which I achieved inadvertently.
One particular example that I remember speaking volumes was with winds and trees: that when the wind blows, trees move and make sounds in response to the winds. The tougher the winds the stronger the sounds and with a positive mindset, all you can hear are the beautiful sounds that come out of it.
On the other hand, one could argue, well the upheavals in the winds disrupt the trees' serenity (if you thought of them as humans); but here they are, making beautiful sounds and movements that attract humans (like myself) to watch them under the influence of "EXPERIENCE NATURE"
Better still, the winds don't change the nature of trees (get angry or worry), instead they stand firm (based on of course the strength of their roots) and sway according to the course and strength of the wind
And once the winds go, they stand tall while weathering any other unknowns they face at any point in time.
Watching, and in fact meditating on these as it happened in real time was truly awarding for a lass that was "attending A CLASS" about CHANGE
Now I believe you prolly know this and it's not news to you.
But jokes on you😝, It's one thing knowing it, it's another seeing it and actually applying it in real LIFE
Was I able to figure out all my issues, I honestly would be lying if I said yes
But then I would also be lying if I said I am the same person that set foot ON the island.
Of course, if you have any questions, your girl is happy to answer them.
Otherwise, BON ANY 2022!!!